ORDER:
Odonata
Suborder:
Zygoptera
Family:
Chlorocyphidae
Libellago aurantiaca (Fiery Gem)
Status:
Local (Nee Soon systems only)
Habitat:
Sluggish brooks and quiet parts of swift, clear streams, typically with a sandy or silty bottom, in lowland forest.
Description:
Males are smaller (hindwing 16 mm) and with bright red abdomen
Remarks:
Territorial of Behavior Libellago species
(from http://www.colostate.edu/Depts/Entomology/courses/en507/papers_1997/mcelwey.html)

In the family Chlorocyphidae, several species were studied extensively to review their territorial behavior (Orr, 1996). A high amount of intraspecific variation of the territorial behavior was confirmed. Libellago aurantiaca establish territories that range from 1.5 to 3 meters in diameter. Upon encountering an intruder, the two males face the other and make forward movements without contact. In the dispute, the abdomens are held horizontally while the forewings are held forward. Often one male will hold the forewings stationary for a brief second so as to display the dark apical spot. As a result, the other male will often flee the territory. Libelluga stictica defends a territory from an intruding male in a similar manner where the pair faces each other and then rises vertically rapidly. The stationary wing display and forward lunges are also involved in the territorial dispute until one male flees the area. Libelluga semiopaca contests for territories are more time consuming than those disputes of both L. aurantiaca and L. stictica lasting a mean time of 4.7 minutes. Once again the males face each other and hover rather than move vertically during the territorial dispute. The pair rotates horizontally 90 degrees and offer a series of stationary wing displays until a winner is decided. Rhinoneura villosipes settle territorial disputes in a similar manner to that of L. semiopaca. The stationary wing display involves the hindwings rather than the forewings to offer the opponent a view of the dark apical mark. Rhinocypha aurofulgens employs the stationary wing display while ascending rapidly and displaying the abdomen by bending it upward. Once the pair has ascended approximately 1 to 2 meters, they descend and reengage or the loser is chased out of the territory by the victor. Rhinocypha humeralis do not employ the stationary wing display, but rather make a series of darts toward the opponent while rotating slightly in the horizontal plane.

Male
Photo owner: Tang Hung Bun
Photo owner email: tanghungbun@yahoo.com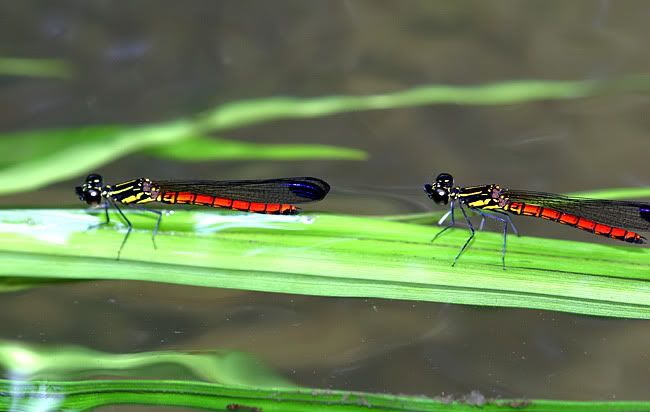 Male
Photo owner: Tang Hung Bun
Photo owner email: tanghungbun@yahoo.com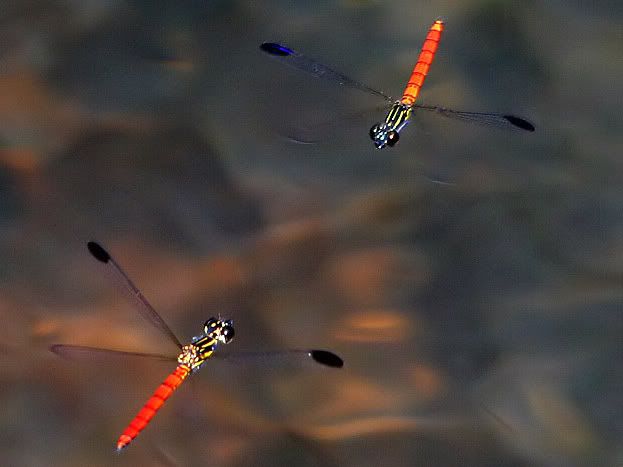 Males fighting over territory
Photo owner: Tang Hung Bun
Photo owner email: tanghungbun@yahoo.com


Female has dull-coloured abdomen
Photo owner: Cheong Loong Fah
Photo owner email:

Back to Introduction page